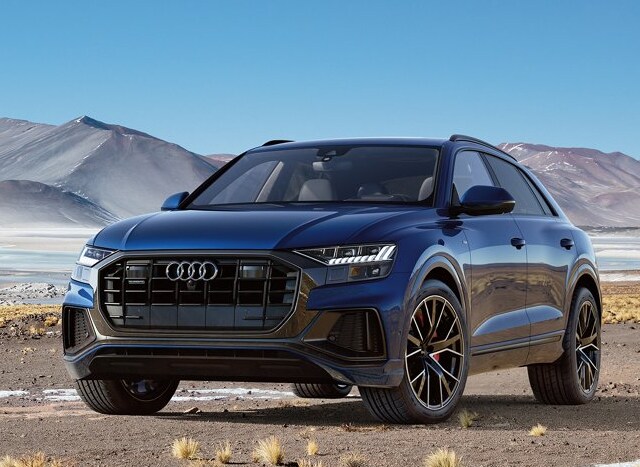 If your mind is on new Audi SUVs, let us direct your attention to the all-new 2019 Audi Q8, coming soon to our local Audi dealership. Stunning design, the latest infotainment and safety technology, and a supremely luxurious cabin position the 2019 Audi Q8 as Audi of America's foremost SUV.
With plenty of room for five passengers, the 2019 Audi Q8 also boasts class-topping cargo capacity sure to please road-trippers. Just fold down this luxury crossover SUV's rear seats and you'll have almost 68 cubic feet of space to use as you wish. And there are plenty of other reasons to love the 2019 Audi Q8 model's cabin: a standard panoramic sunroof and standard three-zone automatic climate control contribute to a bright, comfortable ride, and there's leather seating throughout. Plus, heated eight-way power front seats are standard too.
Our Audi dealers serving Columbia, MD also love the 2019 Audi Q8 model's many innovations, one of which is Audi phone box. No, it's not an old-school rotary-dial phone hidden inside the front armrest. Instead, Audi phone box connects your smartphone to the SUV's antenna and charges the phone inductively. You heard that right: the 2019 Audi Q8 model's antenna harnesses ambient electricity to charge your smartphone. Nikolai Tesla would be proud.
Under the hood, the Audi brand's commitment to performance is embodied in the 2019 Audi Q8 model's new 3.0-liter turbocharged V6 engine, which outputs 335 horsepower and 369 lb-ft of torque. Matched with an eight-speed transmission and quattro all-wheel drive, this luxury SUV is more than capable of providing year-round thrills.
The 2019 Audi Q8 is coming, and with it a new era of Audi excellence. Contact our local Audi dealers today for more information!