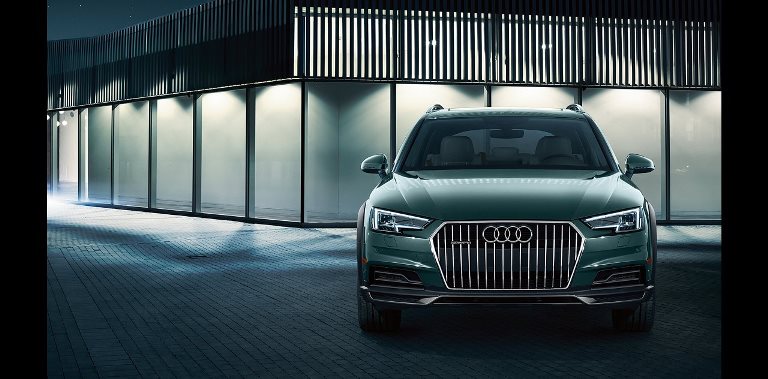 Looking for a luxury automobile unlike anything else on the road? Visit Audi Silver Spring and test drive a 2018 Audi A4 allroad near College Park, MD. This ultra-modern vehicle is the 21st-century answer to the station wagon, albeit one with advantages that yesteryear's wagons could only dream of. We're talking amenities like a turbocharged engine, high-end materials and comfort/convenience features in a state-of-the-art cabin, excellent agility with no sacrifice to cargo space or utility, and increased ground clearance that lets this impressive automobile access places no wagon ever has before.
The wagon body style has long been notable as a family vehicle offering a safe environment for adults and kids, but the 2018 Audi A4 allroad kicks things up a notch and stands as one of the industry's safest automobiles, wagon or otherwise. This vehicle is also one of its class's most fully-featured entries: even after a full redesign last year, every 2018 Audi A4 allroad gets newly-standard heated seats, and the mid-range trim adds standard blind-spot monitoring. As for the high-end 2018 Audi A4 allroad Prestige, it integrates a few cutting-edge safety technologies this year, namely lane-departure warning/mitigation, automatic high-beam control, and adaptive cruise control.
On the powertrain side, all-wheel drive (AWD) is of course standard, and so is a seven-speed dual-clutch automatic transmission. These items pair with a 2.0-liter turbocharged four-cylinder engine capable of achieving 252 horsepower and 273 lb-ft of torque, which is more than enough power for the 2018 Audi A4 allroad to confidently makes its way on roads both smooth and rough.
Test drive this versatile wagon today at our local Audi dealership, and while you're here, feel free to explore a first-class certified pre-owned Audi near Columbia, MD!