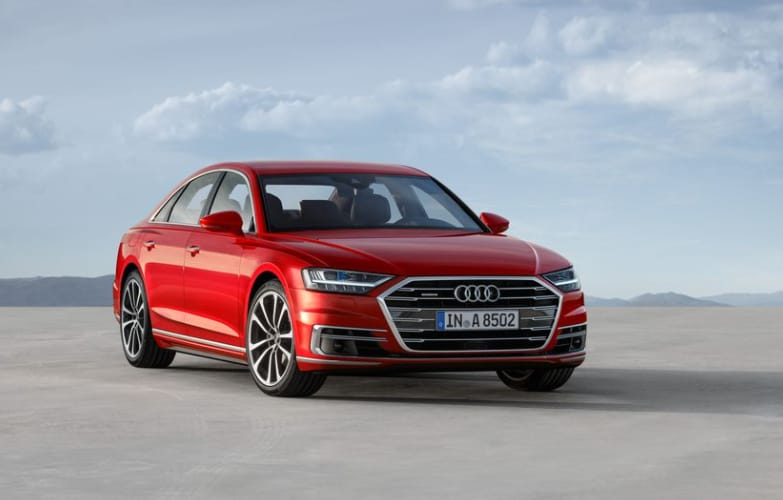 If you're currently driving an Audi A5 or an Audi A3 near Ellicott City, MD but are thinking of upgrading in terms of size, technology, and features, keep a close eye on the 2019 Audi A8. Coming to Audi Silver Spring later this year, this flagship luxury sedan offers numerous innovations in terms of style, performance, and, most importantly, autonomous driving technology.
The 2019 Audi A8 is the first production automobile designed specifically for Level 3 autonomous driving. This means that the 2019 Audi A8 and its groundbreaking autonomous systems qualify as a Level 3 automated vehicle, based on standards set by the Society of Automotive Engineers. In slow-moving traffic (at speeds up to 37 mph) on freeways and highways, the 2019 Audi A8 essentially drives itself. All that's needed to activate this sedan's autonomous capabilities is a push of the "AI" button positioned on the center console. And when the driver needs to take over, a 10-second alert will sound before intervention is required.
The friendly, experienced team at our Audi dealer serving College Park, MD is also excited about the 2019 Audi A8 model's next-gen parking technology. Believe it or not, this futuristic automobile can self-park in parallel or perpendicular parking spots without the driver in the vehicle! Additionally, the 2019 Audi A8 features an available AI Active Suspension that laser-scans the road and identifies imperfections long before the car reaches them.
This sedan's infotainment technology is also enhanced, with the traditional MMI dial controller replaced by two large touchscreens. The lower screen handles climate controls while the upper screen operates audio, navigation, streaming apps, and more. Next-gen personalization is also present in the form of advanced voice controls and a trace pad.
Watch this space for more information on the revolutionary 2019 Audi A8!