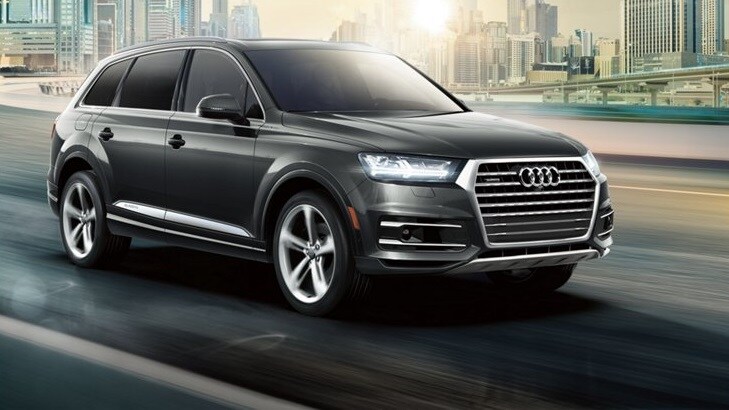 Nowadays, there are more luxury crossover options available to customers in and around Silver Spring, MD than ever before, which is why it is so important to make sure you have all the information you need to make the right decision. The Audi Q7 is one of the best luxury crossovers that Silver Spring Audi customers can own, and as is often the case, an offering from Mercedes-Benz is its largest competition. So, how does the 2019 Audi Q7 match up against the 2020 Mercedes-Benz GLB? Pretty darn well, as you can probably imagine.

For starters, the Audi Q7 for sale near Columbia, MD has the ability to seat seven passengers, while the Mercedes-Benz GLB taps out at just five. As such, the Audi Q7 is taller and wider and longer to accommodate the extra leg room, head room, and cargo storage space. It also has a much larger fuel tank (22.5 gallons vs. 15.9 gallons), which means drivers can go longer between trips to fueling stations, which is always a good thing.

In terms of performance, the Audi Q7 also has a slight edge, as its 2.0-liter turbocharged inline-four engine is capable of producing 248 hp and 273 lb-ft of torque. By comparison, the Mercedes-Benz GLB-Class produces just 221 hop and 258 lb-ft of torque. Furthermore, the standard drivetrain for the Audi model is all-wheel drive, while the Mercedes-Benz crossover comes standard equipped with front-wheel drive.

While both are reputable crossovers, the 2019 Audi Q7 offers enough advantages that we would encourage you to visit your Audi dealership serving Columbia, MD sometime soon to take one out for a spin. The only way to see for yourself just how great this crossover drives is to get behind the wheel yourself. Here at Audi of Silver Spring, we'd love to make that happen!